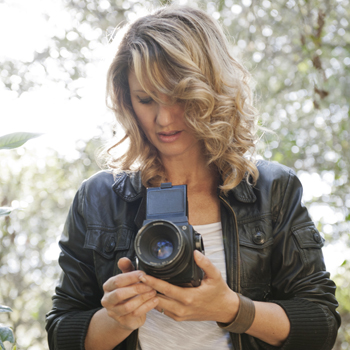 Stephanie Gengotti is a photographer of Italian/French nationality based in Rome. She has a degree in English and French Translation, a graduate diploma in photojournalism issued by the Scuola Romana di Fotografia, where she also attended a Master class in fashion and portrait photography.
Her home in Rome is the starting point for many of her multiple explorations, the lab where she prepares and processes all her storytelling ingredients. Her parents, both flight attendants, gave her the chance to travel all over the world from early childhood. With no hypocrisy or false myths: she was only 7 years old when her father took her to Bombay and showed her a street with small children forced into prostitution. Maybe this is why she immediately learnt to look at the surrounding and global reality with the irresistible need to narrate, stepping right into the least explored aspects of human society. Her eyes do not expect to judge reality, but she follows individuals and talks about the most intimate and secret side of people and their environment.
"The need to establish an empathic and direct relationship often leads her to live in the same house and in the same identical daily routine as the main characters in her stories. A photograph is only the very last act, the catharsis, in a long and slow knowledge path."
She works mainly with reportage photography and portrait. Her work has been awarded and exhibited in numerous shows in Italy and abroad. Important editorial assignments and publications have included work for Internazionale, GEO Magazine, Le Monde Magazine, Stern, DER Spiegel, National Geographic, The New York Times, The Sunday Times Magazine, Sekai, The Guardian, Le Monde, 6 Mois, L'Espesso, Yo Dona, China Newsweek, El Mundo, Vanity Fair, IL, Il Reportage etc.
She is currently represented by Institute Artist.
Awards
2019 "Circus love"
- Happyness OnTheMove, award winner
2018 "Circus love"
- Voies Off, Arles - Zeiss Photography Award, shortlisted
- AFAR Photography Award, award winner
2017 "Circus love"
- LensCulture Emerging talent, award winner
- PDN Photo Annual 2017 (NY), award winner in the category Personal projects
- PDN Storytellers 2017 (NY), award winner in the category Storytellers
- Northern Lights Masterclass, selected for the masterclass
- Fotonica 2017, award winner in the category Best Portfolio
- Belfast Photo Festival 2017, shortlisted
- Premio Ponchielli, shortlisted
- Kolga Photo Award 2017, shortlisted
- Athens Photo Festival, shortlisted
2016 "Community Swing"
- Kuala Lumpur Photography Award, shortlisted
2015 "Community Swing"
- Athens Photo Festival, shortlisted
2013 "9 months"
- Premio Ponchielli, shortlisted
2012 "9 Months"
- Marie Claire International Photography Award, shortlisted
2011 "9 months"
- Premio Pesaresi, shortlisted
2010 "Along the river"
- Fnac Award, award winner
- Brand New Talent RVM, award winner
- Premio Tabò, shortlisted
Exhibitions:
2019 "Cirus love" Archivio Fotografico Italiano, Milan
2019 "Circus love" FotoArt Festival, Poland
2018 "Circus love" Somerst House, London
2018 "Circus love" Klompching Gallery – New York
2017 "Circus love" Fotonica - Follonica
2015 "Le giardin secret" Myop in Paris Point Ephémère
2013 "9 Months" Galérie La Petite Poule Noire - Paris
2012 "9 Months" Atelier Vikart - Paris
2012 "9 Months" Officine Fotografiche - Obiettivo donna - Rome
2011 "Along the river" FNAC Galleries
2010 "Along the river" Fotoleggendo – Rome
Education:
2017/2018 Northern Lights Masterclass
2009/2011 Rome School of Photography - Diploma in photojournalism and fashion photography
1992/ 1995 University of Interpreter and Translator – Graduation
1986/1991 Language school – Diploma